How Diet, Vitamins & Hormone Therapy Effects Your Heart
Before 1991, very little research was done on health issues relating specifically to women's health. This was especially true regarding heart health as cardiovascular problems were often considered more of an issue for older men. However, serious conditions like coronary heart disease, cancer, and osteoporosis are some of the most leading medical problems affecting death rates and quality of life in postmenopausal women in the United States.
Fortunately, in the 1990s, a massive study was launched to research specific treatments for postmenopausal women and their risks for cardiovascular disease and other serious medical problems. But while this study made massive gains in understanding postmenopausal women's health, it is not widely known outside of the medical community.
Women's Health Initiative Landmark Study
Three decades ago, the Women's Health Initiative (WHI) was launched. The WHI is a long-term national health study aimed at finding strategies for preventing heart disease, breast and colorectal cancer, and hip fractures in postmenopausal women. In this article from Zepick Cardiology, you will learn how such common treatments as taking hormone supplements and vitamins changed from what this study found.
This study yielded important information that changed how postmenopausal women have been cared for over recent decades.
The study resulted in such landmark trial findings, that it even continues to this day! The main study ran from 1993 – 2005. But extensions of the study are in process to last through 2027, and possibly beyond.
161,000+ Postmenopausal Women Studied
The depths of this study go beyond how long it has run. The number of postmenopausal women studied is quite staggering. Since the launch of WHI, more than 161,000 post-menopausal women have been included in the study.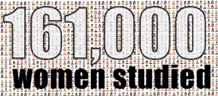 To put that in perspective. There are approximately 30,000 women of postmenopausal age here in Wichita. If every single postmenopausal woman in the city of Wichita participated, that would not even amount to one-fifth of the number of total participants in the WHI study!
This massive WHI research can be broken down into three separate studies looking into three specific types of treatments that were common for postmenopausal women: hormone therapy, dietary modification, and supplements.
Hormone Therapy & Heart Disease
The most significant findings from the research were on hormone therapies. The part of this WHI study focused on whether hormone therapy can decrease the risk for heart disease among postmenopausal women. Participants were either given estrogen alone or were taking both estrogen plus progesterone.
The WHI found that hormone replacement therapy did not prevent heart disease in postmenopausal women as once thought.
In fact, using hormone therapies can increase a woman's risk for a variety of problems including: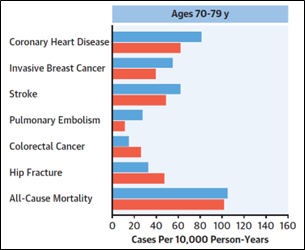 Increased risk of stroke & blood clots
Increase risk of breast cancer
Increased risk of heart attack and stroke
This chart shows effects the difference between women in their 70s who took both estrogen and progestin versus those who took the placebo. You can see there is a clear increase in instances of heart disease, breast cancer, and strokes for women taking hormone therapy. Similar, yet less dramatic increases, were seen among the participants who were in their 50s and 60s.
These findings caused researchers to prematurely stop this part of the study in 2002. While taking hormones were found to decrease a postmenopausal woman's risk for hip fractures, the increased health risks for such serious issues as cardiovascular issues and cancer outweighed whatever benefits that were possible.
The WHI trial changed the scientific community's understanding of hormone therapy benefits for postmenopausal women. These results were a major reason why there was a sudden and sustained decline in prescribing hormone therapy treatment in the United States starting in 2003.
Dietary Modification Benefits
Many postmenopausal women in the group were studied to determine if dietary modifications could improve their heart health and decrease their risk for breast cancer and colorectal cancer. Participants undertook a low-fat diet that was high in fruit, vegetables, and grains.
While eating better has many great benefits, this study did not find a significant reduction in the risk of coronary heart disease, cardiovascular disease, or stroke in these participants.
Calcium & Vitamin D Supplements
One other part of the WHI study examined the effects of calcium and Vitamin D supplements. In particular, they were trying to see if postmenopausal women who took these supplements would have a decreased risk for heart disease, colorectal cancer, and hip fractures.
The study found no sufficient change in risk for heart disease and cancer from taking vitamins.
Better Care for Postmenopausal Women
Thanks to this WHI landmark study, we have improved cardiovascular care for women who are postmenopausal. This study is one factor that has helped to greatly reduce instances of heart disease in women over the decades.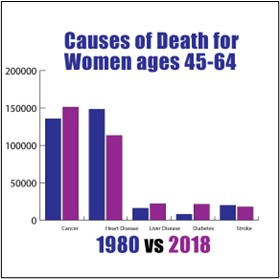 As this graph shows, the number of women 45-64 dying from heart disease or stroke has decreased since 1980.
Prior to this study, estrogen therapy had been recognized for decades as an effective treatment for many of the menopausal symptoms women experience. It was also believed to reduce the risk of cardiovascular disease. In fact, estrogen became one of the most widely prescribed medications in the world by the 1980s and early 1990s.
According to the study published in the Journal of the American College of Cardiology, "The findings shocked the medical and lay communities, leading to a seismic shift in clinical practice and a 70%-80% reduction in HT (hormone therapy) prescriptions."
Another long-running study focusing on cardiovascular care is the Framingham Heart Study which began back in 1948. You can learn more about that groundbreaking research and how it changed heart health care in dramatic ways in this article on the Framingham Heart Study. You can also learn more about the cardiovascular risks unique to women in this article on The #1 Cause of Death for Women.
For questions about your heart health and to understand your risk for cardiovascular disease, contact the friendly team of Cardiologists and medical staff at Zepick Cardiology in Wichita, Kansas.